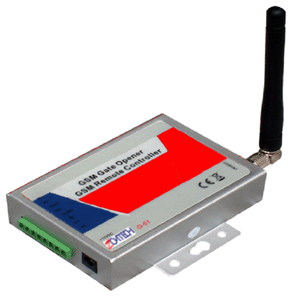 ★Standard Package list:
GSM Gate Opener * 1
GSM Antenna * 1
AC to DC Adaptor *1 (12VDC/1A)
User Manual *1
Note: The package does not include any SIM card.
★Optional Accessories:
Door Sensor,
Motion Sensor,
Temperature Sensors ,
and others.
☆Features:
◆1. No call charges. the GSM Gate Opener rejects the call from authorized number then carry out the turn ON/OFF action on the first 'ring';
◆2. Multiple applications. (gates, bollards, barriers, garage doors, shutters and access doors or machines);
◆3. Secure - Using caller ID for identification, unknown callers are ignored;
◆4. Can be operated from anywhere, no distance limit;
◆5. Add or remove users by SMS Text command;
◆6. No need to provide a remote control for different users;
◆7. Up to 64 authorized phone numbers can be configured;
◆8. Two Digital inputs for door sensor, motion sensors or other sensors to protect your door and windows, when any one of them triggered, will send SMS alert message you immediately;
◆9. One output with relay rating 3A/240VAC for connecting the switch of the door or machines;
◆10. The relay action will return a SMS confirmation to the owner, this function is editable by user;
◆11. Based on GSM Network, applied to many applications.